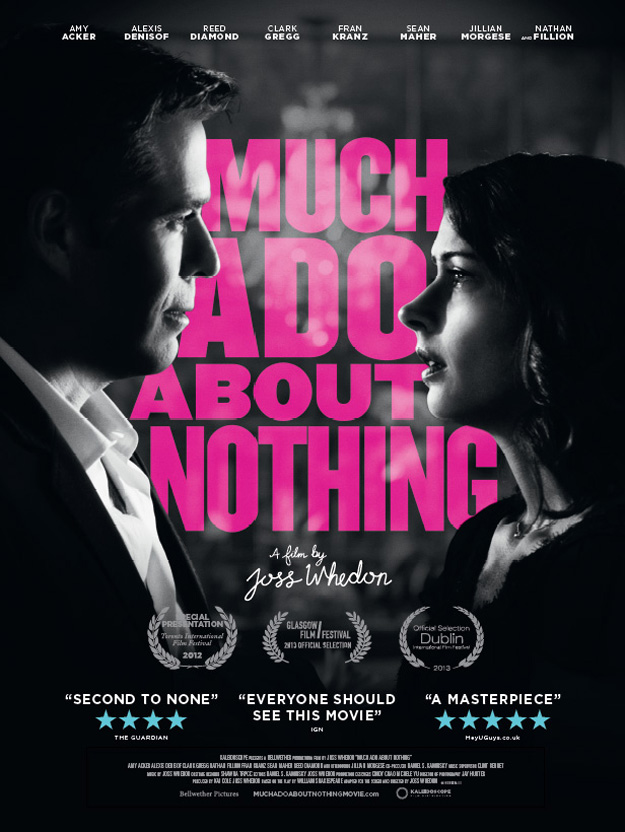 Fans of Joss Whedon and fans of Shakespeare will be pleased to see the first screen version of The Bard's best romantic comedy Much Ado About Nothing in twenty years. Unlike Kenneth Branaugh's excellent 1993 version, this one chooses to emphasize the darkness of the Claudio/Hero subplot. In doing so, it provides some new insight into the text (and shows a side of Whedon that perhaps fans of The Avengers will find surprising).
Our bickering Beatrice and Benedick are Amy Acker and Alexis Denisof. These actors, it happens, were the inspiration for the production. Whedon regularly holds readings of Shakespeare at his house, and when he saw these two in the roles, he knew he wanted capture them on film. Denisof knocks it out of the park when it comes to the physical comedy, but I did not go for his manner of bombasting out blank verse. Acker, on the other hand, was totally convincing with the comedy and as a tough woman with a soft spot for her ex-lover. Acker's Beatrice also has a nice chemistry with niece Hero, played by the stunning Jillian Morgese. Morgese and Fran Kranz (who plays Claudio) did the best I've ever seen at making this Othello-lite sub-plot about puppy love and rash jealousy convincing. Whedon's added scene, of Hero observing her own funeral (you need to know the story), helps a great deal with this, as does Clark Gregg's convincing portrayal of her father, Leonato.
The villains, Sean Maher (as Don John) and Riki Lindhome (as a female Conrade) made next-to-no impression. Their fellow conspirator Borrachio (Spencer Treat Clark) gets a nice turn, playing some credible contrition when confronted with his dark deeds.
Nathan Fillion, as local sheriff Dogsberry, and his bumbling night watch played by Brian McElhaney and Nick Kocher (YouTube's BriTANick) are very funny. In case you were wondering if the movie was truly low budget, Whedon said that Brian and Nick had to pay for their own flights in to be in the movie. Whedon also shot the whole movie at his house and had his actors provide their own wardrobe.
So yeah, a little less than he was working with with Avengers or even Dr. Horrible's Sing-a-Long Blog. He also did his own score and some of his own editing. Whedon says he chose black and white photography because he thought of the story as a "noir comedy" in the vein of Sturges, Wilder or Hawks. Frankly, I didn't get this vibe. I feel more like it was chosen because, with actors providing their own wardrobes and using his own house as set decoration, it simplified the art direction. One need only choose for texture rather than color.
So where does this movie fall? Is it a goof, a lark, a slum scrum by some top professionals? Or does it stand with the great cinematic Shakespeares? I'd have to say somewhere in between, more toward the former end of the scale. This one is for the true fans. (The only line Whedon changed involves the word "Jew". He did not, however, change the "Ethiope" line.) As a true fan, I (guilty) enjoyed the heck out of it. My buddy who saw it with me — and who is not familiar with the play — was thoroughly confused, and hated the movie. I'm sure to him, my praises are much ado about nothing.
MORE: Great IndieWire interview where D.P. Jay Hunter talks about the run-and-gun approach to shooting Much Ado.