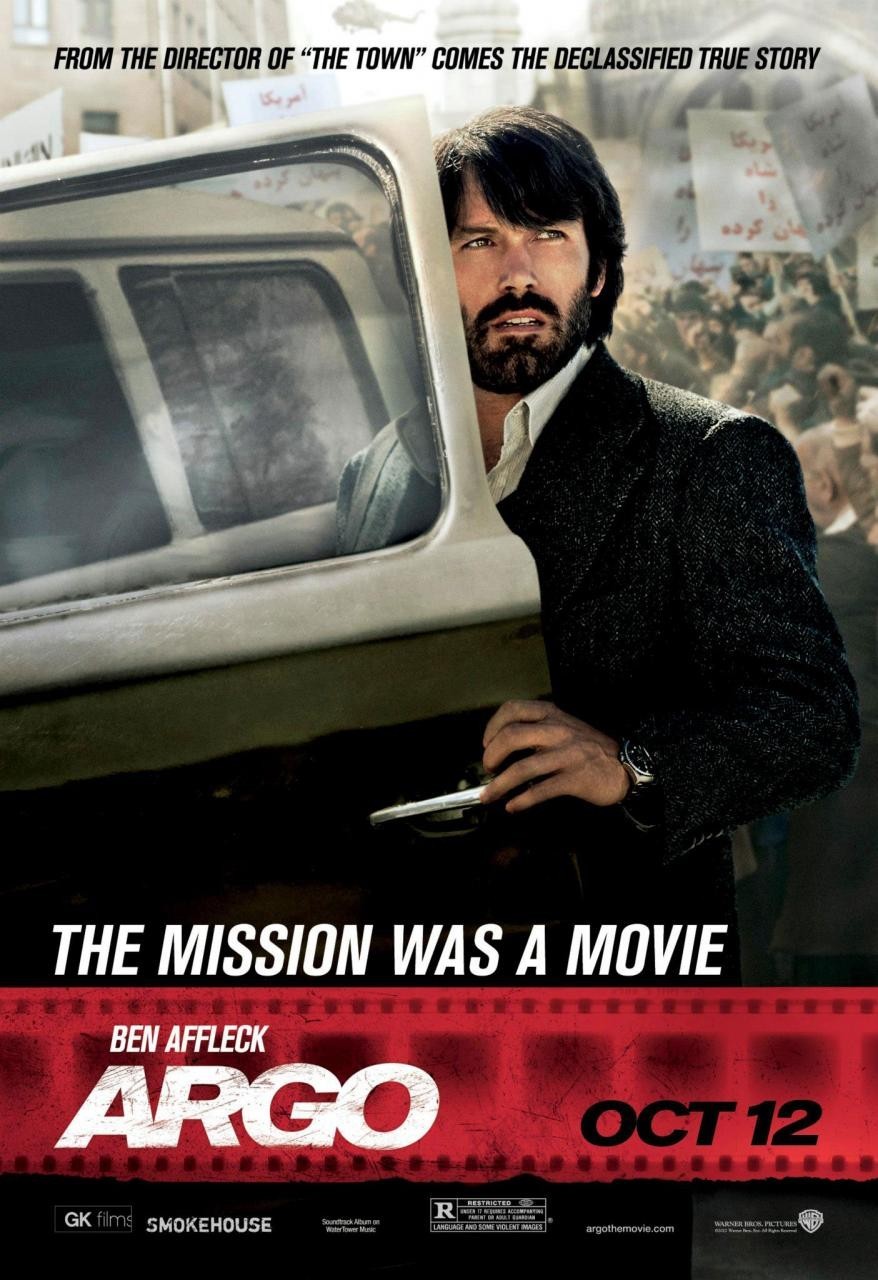 Argo is exactly the kind of film I love — great, efficient screenplay (by Chris Terrio), with directing (by Ben Affleck) that stands out of the way to let the story unfold.
The story is based on a true one. During the Iranian hostage crisis of 1980, six American diplomats managed to escape being captured by taking refuge in the house of a Canadian Ambassador. While parts were zazzed up to make Argo a more exciting movie, the broad strokes are all true, including the fact that a CIA agent created a fake movie company with a real script (the titular "Argo") in order to provide cover for the "House Guests" to escape.
The production design gets mad props, from the very beginning where the movie pulls an Unbearable Lightness of Being, intercutting real footage with re-creations of the historic events all together seamlessly. And at the end of the film, stay for the credits. The reference photos featured in it show how perfectly costume and makeup managed to capture the real 1980's time-capsule fashions. The score, by Alexander Desplat, did not stand out to me, but the movie was as suspenseful as any film I've seen, so I assume it was doing its job. If there's one complaint I had, it is that the characters of the House Guests are underdeveloped, and a certain major card involving the maid at the Canadian Ambassador's house is played possibly too early. [UPDATE: I also agree with the commenter that the portrayal of the Iranians was more as a terrifying "other" than real people. Obviously, I am not recommending Argo over last year's Iranian masterpiece A Separation.]
Argo is deftly funny, in its jabs at Hollywood and the CIA/State Department's salty bureaucratic dialogue. And it is deadly serious in its thriller story of escaping American diplomats. I will be surprised if it is not included among the Best Picture nominees.