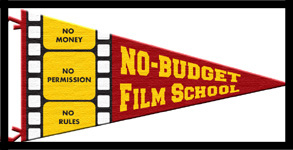 Yipes, this starts tomorrow! For those in L.A. who aren't busy this weekend, Mark Stolaroff is a real evangelist of low-budget filmmaking. If you go, I hope you'll write in and let me know how it was.
Dear John,

I've enjoyed reading your posts for some time now.

I'm getting ready to teach another one of my No Budget Film School classes in LA (May 30-31, 2009) and I wanted to see if I could get a mention in your blog. I have some great guest speakers this time and these experts and myself will be giving filmmakers an up-to-the-minute perspective on what works and what doesn't in the current no-budget landscape.

You've talked about Mumblecore and its future and I have two guests who have really put their stamp on this kind of filmmaking, taking it way beyond the kind of "artless" aesthetic we've seen in a number of examples.

Information for the class is available on the website:

http://www.nobudgetfilmschool.com/id14.html

Here are some of the highlights:

– Peter Broderick, considered one of the leading authorities on alternative distribution strategy, will give an empowering presentation on maximizing distribution with new, innovative techniques. Broderick has been one of low-budget filmmaking's leading experts since the early 90's. He wrote a series of articles for Filmmaker back then that helped drive the micro-budget filmmaking movement. In 1997 he founded Next Wave Films, which helped launch the careers of filmmakers like Christopher Nolan, Joe Carnahan and many others. Now, as the President of Paradigm Consulting, he is a sought-after consultant, speaker, and producers rep. He will be coming straight from Cannes, where was on the panel "New Platforms for Filmmakers: Are They Working Yet?" with other indie film notables like John Sloss.

– Director Alex Holdridge will discuss the making of his award-winning feature "In Search Of A Midnight Kiss". Shot for $15,000 with a two-man crew all over LA, "Kiss" played several prestigious festivals and was released theatrically by IFC Films, and has been a hit overseas in places like the UK and Greece. It was also the winner of the coveted Cassavetes Award at the 2009 Spirit Awards, given to the best film made for under $500k.

– Jay Duplass, one half of the filmmaking duo The Duplass Brothers, will discuss the making of his two no-budget features and compare that experience to his most recent project, a $10 million Fox Searchlight film starring John C. Reilly, Marissa Tomei, Jonah Hill, and Catherine Keener. The $15k "Puffy Chair" was a cult hit, premiering at the 2005 Sundance Film Festival and getting distribution from Roadside Attractions. The no-budget "Baghead" premiered at the 2008 Sundance and was sold to Sony Classics, which released the film in July 2008. Duplass is currently adapting another Fox Searchlight feature, "Sleep Toward Heaven," with Sandra Bullock attached to star.

– Director Gregg Bishop will discuss the making of his no-budget action miracle, "The Other Side," which premiered in Slamdance and was released theatrically. Made for a ridiculous $15,000, the feature is packed with the kind of stunts and effects you expect to see in films costing millions. Gregg will reveal how he was able to put so many elements together for no-money and will show clips demonstrating some of the no-budget f/x tricks utilized in the film.

– FSI: Film Scene Investigation – One of the most popular parts of the day and an example of the numerous problem solving components of the class. We analyze a scene from an award-winning no-budget movie, from script to screen. Students hear the scene read, get the opportunity to identify and solve production problems, learn how those problems were solved in the movie, see behind-the-scenes footage of the scene's set-up, and then see the filmed scene in it's finished form.

I'm always trying to provide as much value as I can. Here are some things that all paid attendees receive absolutely free for taking the class:
– Screenwriting Instructor Chris Soth's 5-module Million-Dollar Screenwriting Teleseminar: "The Mini-Movie Method" (a $250 value!)
– DVD of award-winning feature film "True Love"
– Resource Handout for each day
– Box Lunch both days
– Light Refreshments throughout the day

Best,
Mark
Cost is $275 pre-pay, $325 at the door. Discounts for various affiliations.